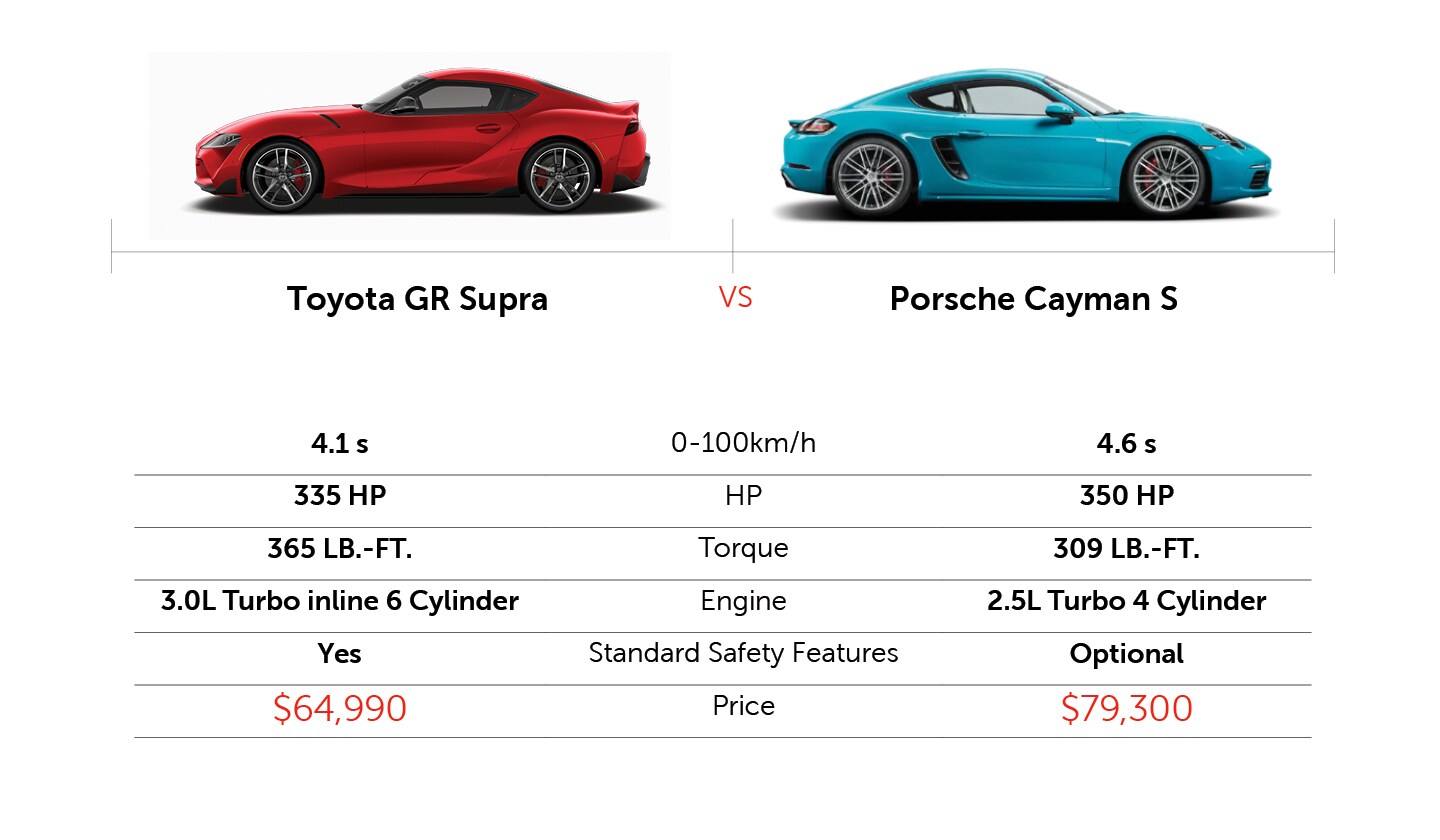 Woodbridge Toyota will tell you why the 2020 Toyota Supra is better, than the Porsche Cayman. If you are in the market for a sporty, agile, and compact vehicle the Toyota Supra is the right choice. It's price, features and performance far out weigh the competitions, and it's available now at Woodbridge Toyota.
The 2020 Toyota Supra's Competitive Advantage
Woodbridge Toyota located in Woodbridge, Ontario proudly offers the Toyota Supra, the ultimate sports enthusiast vehicle. With its shared German-Japanese engineering, the Supra rivals the Porsche Cayman and doesn't disappoint. When thinking about the steering, performance and reliability of the Toyota Supra, the numbers speak the most and often make you question if the additional price jump to purchase a Porsche Cayman really gives you the edge.
The Numbers Make the Supra Competitive
When comparing to the Porsche Cayman, the Toyota Supra offers zero to 60 at 3.9s while the Cayman comes in at 4.1s, with the quarter-mile, the Supra comes in at an astounding 12.5s while the Cayman takes second place at 12.6s. With a savings of over $10,000, the Toyota Supra offers premium performance at a non-premium price. Check out our inventory of and Find the Right Vehicle for you.
Features to Enjoy
The Toyota Supra leaves more to the imagination with premium leather seats, a racing-inspired cockpit with a digital combi-meter to monitor your performance and the redline. Compare the turbocharged I-6 alum block/head and DOHC 4 valves/cyl performance of the Supra with the Porsche Cayman and you won't be surprised why the Toyota Supra is the clear winner.