How Do I Change My Car Battery?
Before changing your battery, you'll obviously need to know whether your battery needs replacing or not. 
A dead battery is usually indicated by your car not starting. Otherwise, if you know your battery is at least older than 3 years then you'll have to check it's state and if there's anything that needs repair such as the removal of sulfate build-up which may look like a white or blue deposit on the battery. You can remove this build-up with a rag. Make sure you're wearing gloves so that your skin doesn't touch the sulfate. After you've checked that there's nothing else you can repair and your battery is still dead - this confirms that you'll need a new battery. Before getting into the nitty-gritty and pulling out the old battery, check the measurements of it and take note of your make and model. This will help you when purchasing a new battery - to make sure you get the right one.
Now that we've confirmed that your battery needs replacing and you have a brand new one ready to install, "How do I replace it?" you ask. 
Replace your old battery all by yourself! Let's get started.
Make sure your car is in the park, turned off and your key is NOT in the ignition. Now, pop the hood and find your battery. It will look like a rectangular shaped box with two cables connected to the top.
Acquaint yourself with which cable is negative and which is positive. The negative cable is usually black while the positive one is usually red.
Disconnect the negative cable first, so that you don't have a short circuit on your hands. Feel free to use a wrench to loosen the negative clamp.
Repeat the same step, except this time, disconnect the positive cable from the terminal.
You may have to remove a bar that sits across the top of the battery. Take out any screws holding it there and anything else holding the battery in place.
Take this opportunity to clean the battery clamps and tray. If you find any extreme corrosion on any of the connections or clamps - you'll need to replace those parts.
Take the new battery and line it up with the positive and negative connections on the proper sides.
Reconnect the positive cable first. Tighten it with a wrench.
Repeat the same step, but with the negative cable.
Refasten the bar holding the battery in place and recheck to make sure everything is tightened properly.
Close the hood and try starting your car. Make sure you take note of the date that you replaced the battery as well as how many kilometers are on your vehicle. This will help you in the future when you're trying to recall how old your battery is.
If you're having trouble with replacing your battery and you can't seem to figure out why - this chart will assist you in finding the root of the issue. Simply find your problem in the left column and we've matched it with a few solutions.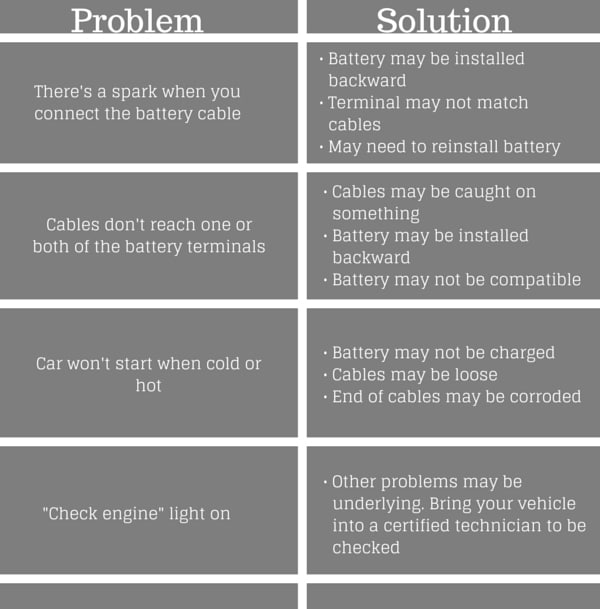 There you have it! You've replaced your car battery all on your own. You'll have to take the old battery to any type of vehicle service garage or recycling facility. In the meantime, make sure you do not tip it at all because it contains harmful chemicals.
If you don't feel confident enough to complete these steps without assistance, here at Woodbridge Toyota, we're more than willing to help you out. Simply give us a call at
905-851-3993
or fill out our form online
to schedule a quick appointment
and we'll switch the battery for you no problem.