Toyota Hybrid Cars and SUVs for Sale in Woodbridge, ON

Driving an eco-friendly vehicle is easy with us!
The new Toyota hybrids will help you enjoy a better driving experience while reducing your emissions. For instance, the Toyota Corolla Hybrid is meant to provide you the fun to drive feeling with an eco-sensitive technology. In the sedan category, the Camry Hybrid provides you with all the efficiencies and the strength you would expect from a midsize car. If you are wondering if crossovers and SUVs can maintain their power while being environmentally friendly, the answer is yes. The RAV4 Hybrid and the Highlander Hybrid are both excellent options for who need more cargo space and more horsepower performance. The RAV4 is becoming more and more popular amongst drivers as it provides them with versatile experience.
Toyota Hybrid Cars and SUVs for Sale in Woodbridge, Ontario
As you can see, hybrid vehicles come in different sizes and shapes. You can find one that will fit your unique lifestyle. They offer several benefits such as fuel economy, nice interior and great safety features in all the standard models. Acquiring one isn't difficult with our Financing Department. They can help you find the one that will be in your price range.
Toyota Hybrid Cars and SUVs for Sale in Woodbridge, Ontario
RAV4 Hybrid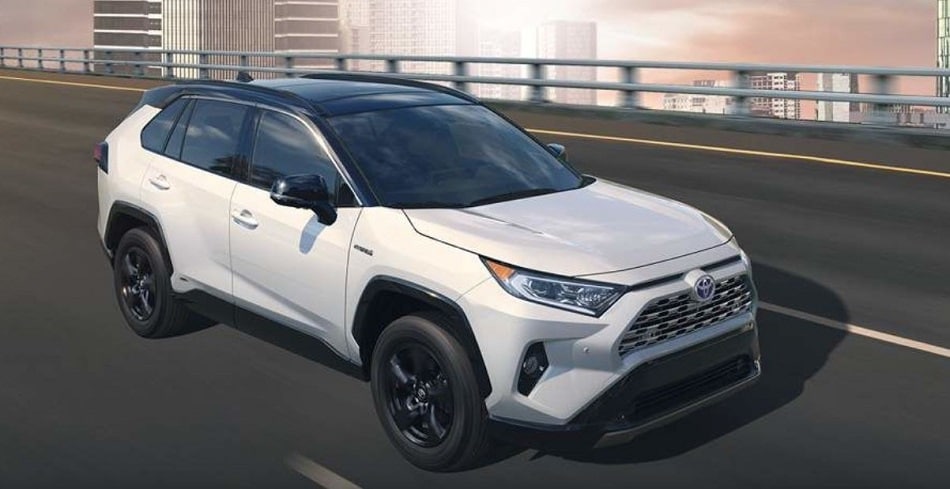 The RAV4 Hybrid is sporty and versatile, but that's not all we love about it. Besides its powerful exterior stance, this vehicle comes with a standard all-wheel-drive that makes it able to conquer most terrains. The RAV4 Hybrid can travel up to 68 kilometres using its electric driving mode without requiring a refill. After opening its doors, you'll see a wonderful spacious cabin, harmonious and luxurious layout, as well as premium materials.
Highlander Hybrid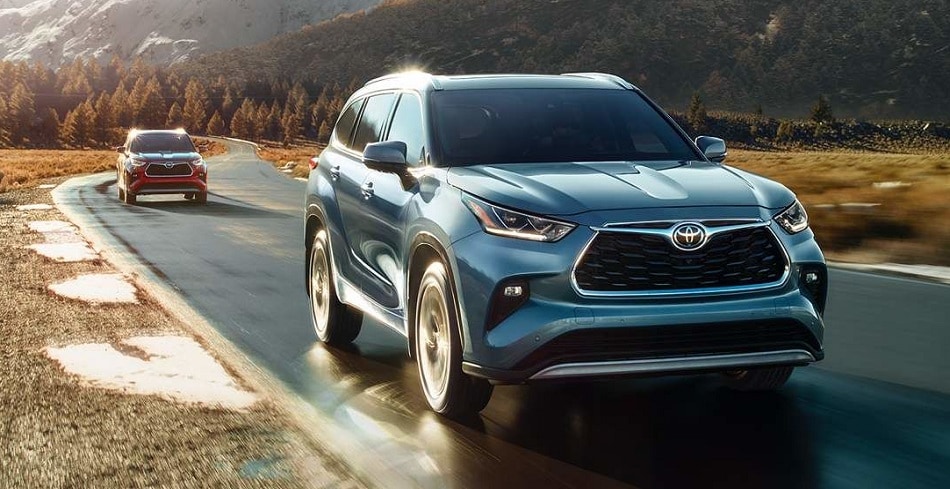 If you're looking for a fantastic weekend getaway with friends and family, you should consider getting the Highlander Hybrid. This vehicle has flexible seating for up to eight people and contains connected services that make it a more convenient and safer vehicle. Of course, it also has advanced engines and futuristic road handling abilities, which explains why it's among our favourite Toyota Hybrids.
Corolla Hybrid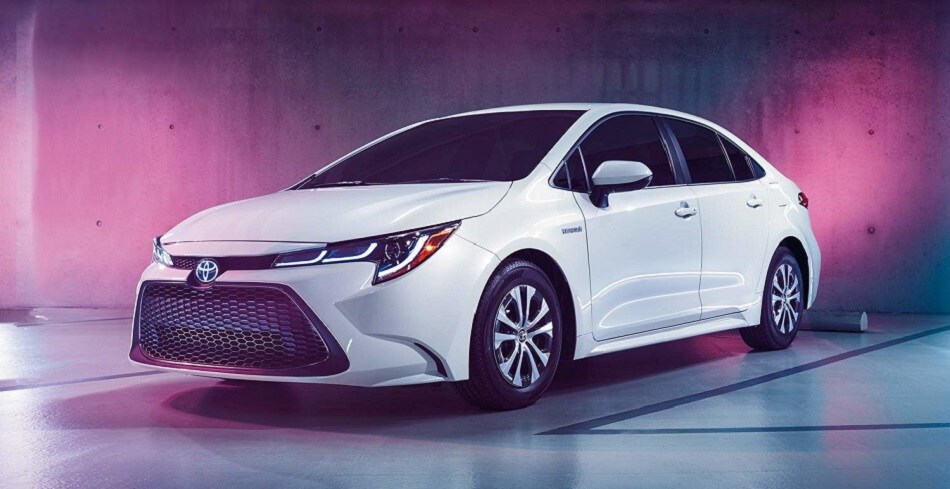 The Corolla Hybrid contains certain first-rate technological features, including automatic AC, a smart key and push-button, compatibility with Android Auto and Apple CarPlay, blind-spot monitor and rear cross-traffic alert, and so much more. If you're seeking a vehicle with these features, our Corolla Hybrid will be the best option.
Camry Hybrid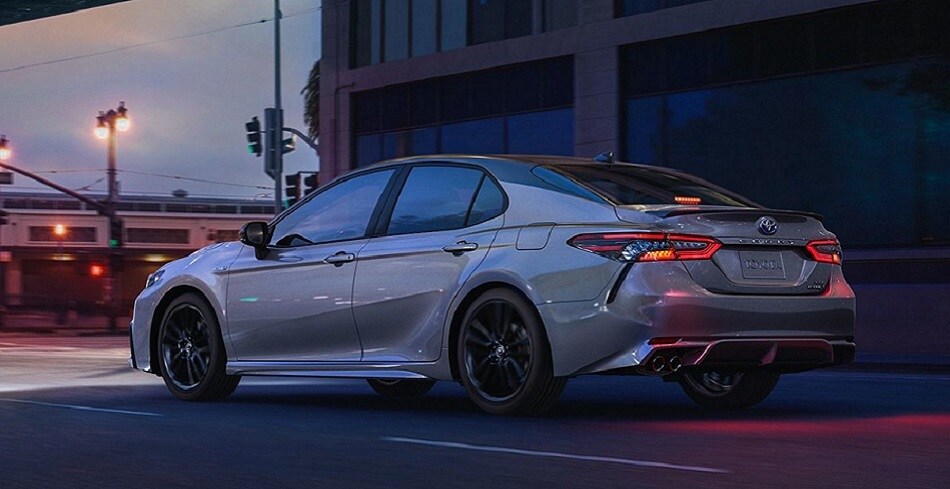 The Camry Hybrid is the perfect car for anyone looking for something more athletic, which still contains the latest technology features, such as the Toyota Safety Sense 2.5+. Another aspect that we love about this vehicle is its wide stance and low centre of gravity. Its defined interior, featuring a heated steering wheel, heated seats wrapped in fine sport fabric, and tight controls, are additional features that make this vehicle a comfortable ride.
Given how dynamic Toyota vehicles are, you may be thinking of purchasing one of the recent Toyota Hybrid cars or SUVs we have available at our dealership. We at Woodbridge Toyota are known as a reputable dealership located in Woodbridge, Ontario. As a superior dealership, we also serve the Brampton, Markham, Etobicoke, Toronto, and Mississauga areas.
Toyota Hybrid Cars and SUVs
Whether you're looking for a distinct style, power, flexible design, or fuel-economy, you'll find something you love among the current Toyota Hybrid Cars and SUVs for sale in Toronto, Ontario, and the neighbouring areas. The hybrid vehicles conveniently operate with a system that combines gas engines with electric motors. The purpose is to keep your driving seamless, clean, and hassle-free. Toyota's hybrids also come with the latest interior and exterior features and high technology security systems for anyone looking for a superior driving experience.
We have several models from which to choose from, so keep reading to discover some of our top sought after vehicles.
If you decide to select one of these vehicles, you can experience many other benefits. Some of these benefits include the following:
No Plugin Required
Toyota Hybrid electric vehicles don't need to require charging through a plugin. They come with an electric system that recharges the battery automatically when it runs out, enabling you to drive the car just like a traditionally powered vehicle.
Eco-Friendly and Sustainable
We always advise anyone looking to create a sustainable future by reducing carbon emissions to adopt one of our Toyota hybrid electric vehicles. By supplementing gas with electricity, you will enjoy better performance and reduce the demand for fossil fuels.
Easy to Maintain
The parts comprising the electric components of a Toyota hybrid are state-of-the-art. Although they are involved, they don't require the maintenance that the gasoline engine requires. Overall, maintaining a hybrid vehicle engine is the same as upkeeping a conventional vehicle's gasoline engine. It's as if the gasoline engine in the hybrid vehicle is the vehicle's sole power source.
History of Toyota Hybrid
Toyota has been making hybrid vehicles for a while now. In 1997, the company introduced the first mass-produced model known as the Prius in Japan before releasing it to the world in 2001.
Contact Us Today
Do you wish to learn more about the Toyota Hybrid Cars and SUVs? If you do, contact us today. If you need financing, Woodbridge Toyota offers many options that may fit your budget. The best part of working with our finance centre is we make the whole process simple.