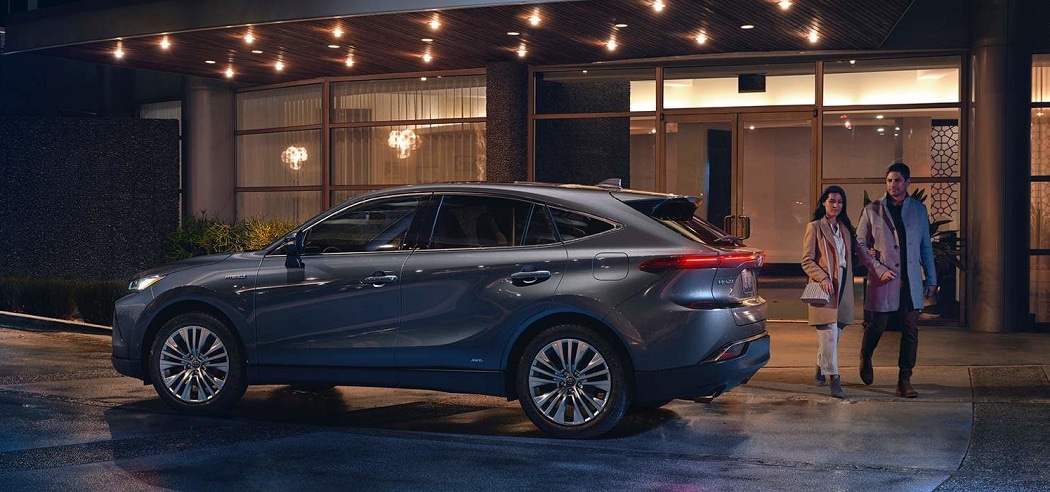 2021 Toyota Venza - Arriving Soon
Turn the ordinary into extraordinary with the all-new 2021 Toyota Venza. Woodbridge Toyota represents a globally renowned leader of automotive ingenuity and resilience, and Toyota has done it again. The soon to be released all-new 2021 Toyota Venza offers automotive consumers a crossover SUV that leaves convention in the dust and sets ablaze a path for everything expected and unexpected for Toyota's future.
Sleek and sophisticated from the inside out, and equipped exclusively with an innovative hybrid-electric powertrain, the 2021 Venza blends sedan style driving comfort with SUV capability. For automotive consumers in Woodbridge ON, Vaughan, Brampton, Mississauga, Toronto, and Etobicoke, wanting to break free from the norm and step into an SUV that crosses boundaries, contact us.

Drive a Greener Tomorrow. Drive A Hybrid
For more than 20 years, Toyota has strived for a greener future. From the first Prius to the 2021 Toyota Venza, there are 9 Toyota Hybrid vehicles to choose from, more than any other automotive brand. The new-generation Toyota Hybrid System in the all-new 2021 Venza combines a powerful 2.5L DOHC four-cylinder engine together with three electric motors in a compact system. The gas engine uses a Variable Valve Timing-Intelligent system by Electric Motor (VVT-iE) on the intake camshaft and VVT-i on the exhaust camshaft. A variable cooling system, which includes an electric water pump and thermostat, and a fully variable oil pump work together to enhance engine efficiency.
Normal, Eco, and Sport driving modes give the driver the ability to adjust the Venza's performance style. Sport mode improves and heightens throttle response, making being green fun and functional. Eco mode changes the throttle and ecological rationale, helping the driver focus on capitalizing on the range using equal parts fuel and battery. In contrast, Normal mode is perfect for everyday driving.

2021 Toyota Venza Interior Comfort
The 2021 Venza provides comfort and class with standard power seats and auto slide-away function. The seat instinctively moves to the rearmost position to improve ingress and egress when the driver is entering and exiting the vehicle. When the Venza is turned on, the seat moves to the last position set by the driver.
First featured on the Lexus, the 2021 Venza uses S-FLOW cooling technology. This feature guides air conditioning only to occupied seats, ensuring comfort all year round and helping to reduce energy utilization. On the Limited and XLE trims with a 12.3-inch display, the temperature control system functions can be accessed with Intelligent Touch capacitive controls.
The 2021 Venza may not appear big on the outside, but it provides significant interior space. The cupholders can hold large drink sizes, while the center stack tray can handle the largest iPhone models. The Venza also offers 1,027 litres of carrying space behind the 2nd-row. You may be wondering how this is possible. Your rear passengers are literally sitting on the answer. The lithium-ion battery pack is petite enough to be fitted under the rear seats, so it doesn't take up any cargo or passenger space.
2021 Toyota Venza Models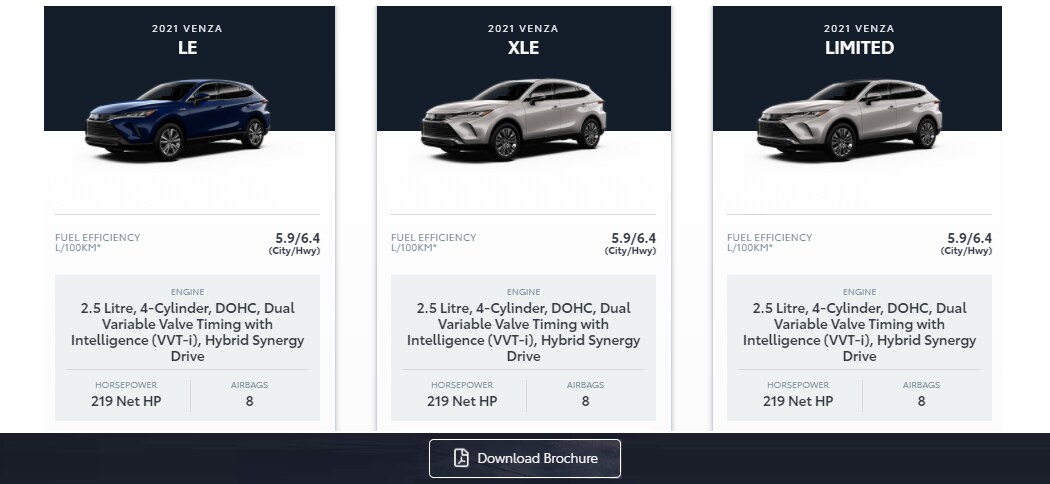 Pre-Approved Financing At Woodbridge Toyota
Be sure to check our website regularly for up to date release information on the all-new 2021 Toyota Venza for sale in Woodbridge, ON. While you wait for the 2021 Venza to arrive, you can secure your financing or lease by completing our online finance application for pre-approval. A Toyota finance specialist will contact you to discuss your available finance or lease options and bring you one step close to becoming a new Toyota owner.
New 2020 Toyota Venza in Woodbridge, Ontario