2020 Best Retained Value Awards
CanadianBlackBook.com presents the winners of our 2020 "Best Retained Value" Awards. This year we measured 2016 model year vehicles, in 23 categories. The much-desired awards track vehicle values over a four-year period, with our analysts scouring hundreds of thousands of sales transactions and other data points from live auctions, online auctions, dealership and other proprietary sources. Prizes are awarded to those vehicles that hold the highest percentage value of their original MSRP. The 2020 Overall Brand Award for Car goes to Toyota; for Truck &Crossover/SUV it also goes to Toyota.
Toyota Comes Out On Top at Best Retained Value Awards for 2018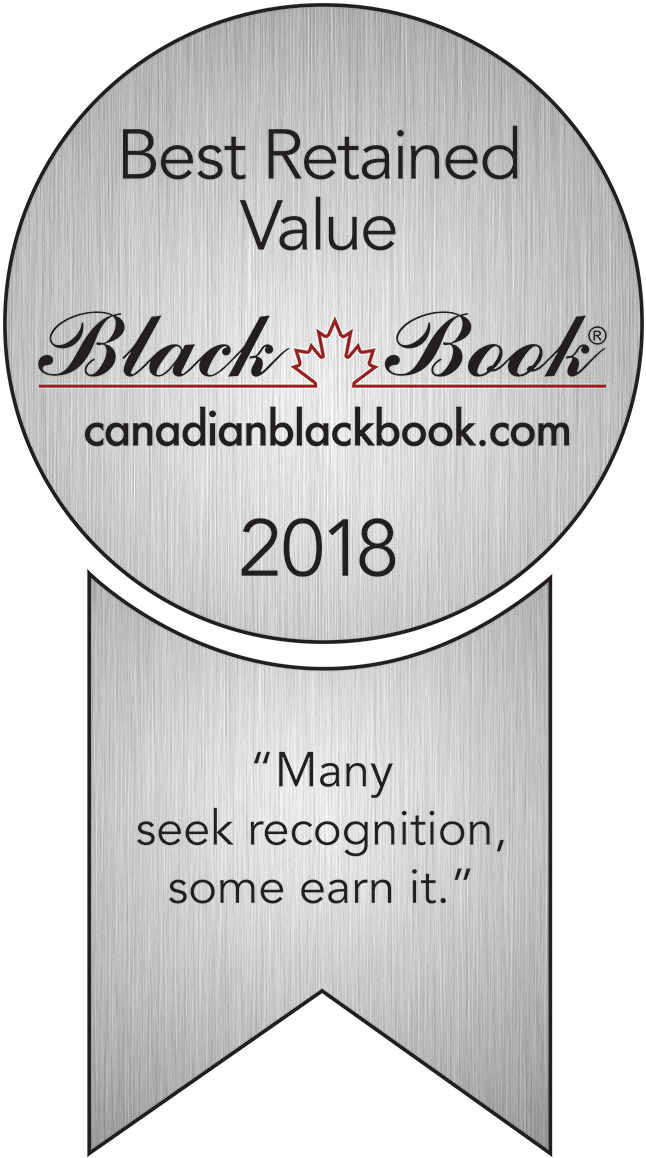 The 2018 edition of the Canadian Black Book Best Retained Value Awards, announced today, were highlighted by a record for overall industry average retained value of four-year-old vehicles in Canada. At 53 per cent, this surpasses the previous record of 51 per cent, set just last year. This is a significant increase given the number of categories and 282 total vehicles measured.
"This year marks the eleventh annual presentation of these prestigious auto industry honours. The 2018 Canadian Black Book Best Retained Value Awards are awarded in 20 vehicle categories and for the second year, three 'Overall Brand Awards'.
The Toyota FJ Cruiser in 'Mid-sized Crossover/SUV', the previous all-time retained value record holder from last year (at 83 per cent), winning for seven of the last eight years, and holding 86 per cent of its value from 2014; and the Toyota Tacoma, in the 'Small Pick-up' space has won for an unprecedented nine consecutive years and held 81 per cent of its value after four years, just one point down from last year.
"If you are the owner of one of these award winners and hold a loan or in some cases even a lease for the vehicle, you could be in a better position when it comes time to get into a new vehicle," says Brian Murphy, VP Research and Editorial, at Canadian Black Book. "High depreciation, the single most expensive cost of owning a vehicle, can be a back breaker, especially if you are in a long-term loan, holding many consumers in negative equity where their vehicle is worth less than the outstanding amount due on the loan for almost the entire term of the loan," he adds.
For example, after four years of owning a vehicle that only retained 30 per cent of its value, versus one that retained 50 per cent, the loss would be $7,000 more in depreciation on a typical $35,000 car. The weaker value retention will affect what the current car is worth at the end of the loan, and if any losses are rolled into the next loan, it will result in larger payments for the new car, due to a low trade-in value.
"Car buyers need to understand depreciation and the issue of negative equity and do their research on vehicle values before they head into the dealership." Murphy says.
For the second year, Canadian Black Book is awarding 'Overall Brand Awards' that recognize retained value across a brands' full product line up. The winners are for 'Car' - Toyota (56 per cent); 'Truck/Crossover/SUV' - Toyota (71 per cent); 'Luxury' - Porsche (66 per cent). Toyota again dominated the awards with eight category wins, two brand wins and 14 total mentions (top three in a category).