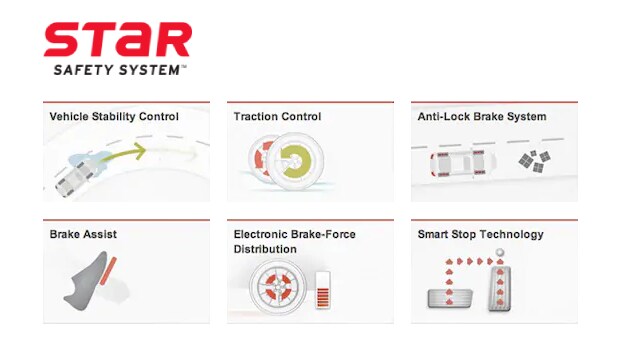 At Woodbridge Toyota, we understand the importance of security and peace of mind while driving to protect you and your loved ones. That is why we are proud to represent Toyota, an industry leader of revolutionary trailblazing safety technology and advancements. Toyota was the first full-line manufacturer to introduce the Star Safety System as standard equipment.
What is Toyota Star Safety System?
The Toyota Star Safety System was first introduced in 2011 featuring 6 accident avoidance safety technologies to increase your vehicle's stability, braking and traction. The 6 components featured in the Star Safety System include:
Hours
Monday

9:00 AM - 8:00 PM

Tuesday

9:00 AM - 8:00 PM

Wednesday

9:00 AM - 8:00 PM

Thursday

9:00 AM - 8:00 PM

Friday

9:00 AM - 6:00 PM

Saturday

9:00 AM - 6:00 PM

Sunday

Closed

Star Safety SystemTM features six accident avoidance safety technologies to enhance your vehicle's stability, braking and traction
Vehicle Stability Control (VSC)
VSC reduces engine power and applies brake force to all or individual wheels to help prevent wheel-slip and loss of traction.
Traction Control (TRAC) 
By applying brake force to spinning wheels on wet, icy, loose, or uneven surfaces TRAC helps get your vehicle on its way in any situation.
Anti-Lock Brake System (ABS)
ABS prevents your brakes from locking up by pulsating brake pressure at a rate not humanly possible to help you stay in control in emergency braking situations.
Electronic Brakeforce (EBD) 
EBD is an added component to the ABS technology that helps keep the vehicle more stable and balanced when braking.
Brake Assist (BA)
BA is designed to detect abrupt braking and then add the full pressure needed to aid in collision prevention.
Smart Stop technology (SST) 
As an extra measure of safety, Toyota created the Smart Stop Technology. This technology automatically cuts engine power and lets the brakes take precedence over the accelerator when both pedals are pressed at the same time. This is especially useful when travelling on steep inclines.